We caught up with Phil Fickling, paper engineer, to chat about cardboard boxes, Antarctica, Navy dentists and his latest exhibition: Lens Pens Paper.
We spoke to your fellow exhibitor last week – Ian Preece – what an interesting chap.
Yes, he's got the energy to power all three of us.
So passionate – it's contagious.
I usually kind of glaze over when he gets started. My brain just can't keep up.
Tell me about yourself in three words.
In three words? Let's see… Comfortable with myself.
How does one get into paper modelling?
Well, paper is cheap, and it's always lying around. When I was a kid, I would make things out of paper all the time; like flying saucers out of paper plates and submarines out of corrugated boxes. I had a cardboard box that a washing machine came in. I pushed a hole through the side with a pencil and I would close the box from the inside, and sit and watch TV from inside this box like I was in an underwater diving bell. My mom thought I was troubled. So that's where it all started.
I was 12 years old when Star Trek was on TV, the original one. I would make the Communicator out of cardboard. I'd sit and play with that little Communicator and take it to school with me. I'd make little spaceships, too. I still have a spaceship that I made when I was 12.

Where did you study art?
I went to art school in Seattle. I made every assignment into a three-dimensional thing; most people did illustrations or drawings or whatever. I would build a model.
Was paper always your medium?
I use other things, too. I've done things out of wood and junk parts. Paper is the thing that was at hand–my go-to material, I guess. It's relatively quick. And it's clean. I like things that are clean. I don't like dirty, messy things. I'm a little bit OCD.
I was in my second year at art school when two talent scouts came to the school to see if there was any fresh, new talent. They liked to hire students because they'll work for next nothing. They only had time to interview 12 students. I wasn't allowed to be interviewed because I was only in my second year. One of my tutors thought I really needed to be included, because of the paper stuff. He got me an interview. There were 13 of us. I was lucky 13. We were lined up on a bench. We had little name tags pinned on with the number. I was the last one to go in. All I had was my wife's a beat-up old blue suitcase; one of those old Flight suitcases with a busted lock, real flash. A great way to make an impression. I went in and I opened it up, and it was just full of all these Star Wars kind of spaceships made of white paper. None of them had any drawing or anything. Some of them were complex shapes but all of them were weird. They hired me on the spot.
You've also done some books?
I've been involved in about nine book projects. Some of them were completely my own books, some were collaborations with illustrators. The one I'm most proud of was a craft book for DK. It was called The Star Wars Mega Model book. It had four models in it that you could make. It had Boba Fett's helmet, a T.I.E fighter, and Darth Vader's lightsaber (actual size). Yoda was also included, lightsaber in hand. These were all models that you could punch out of the book, all pre- cut, and you'd put them together without scissors or glue.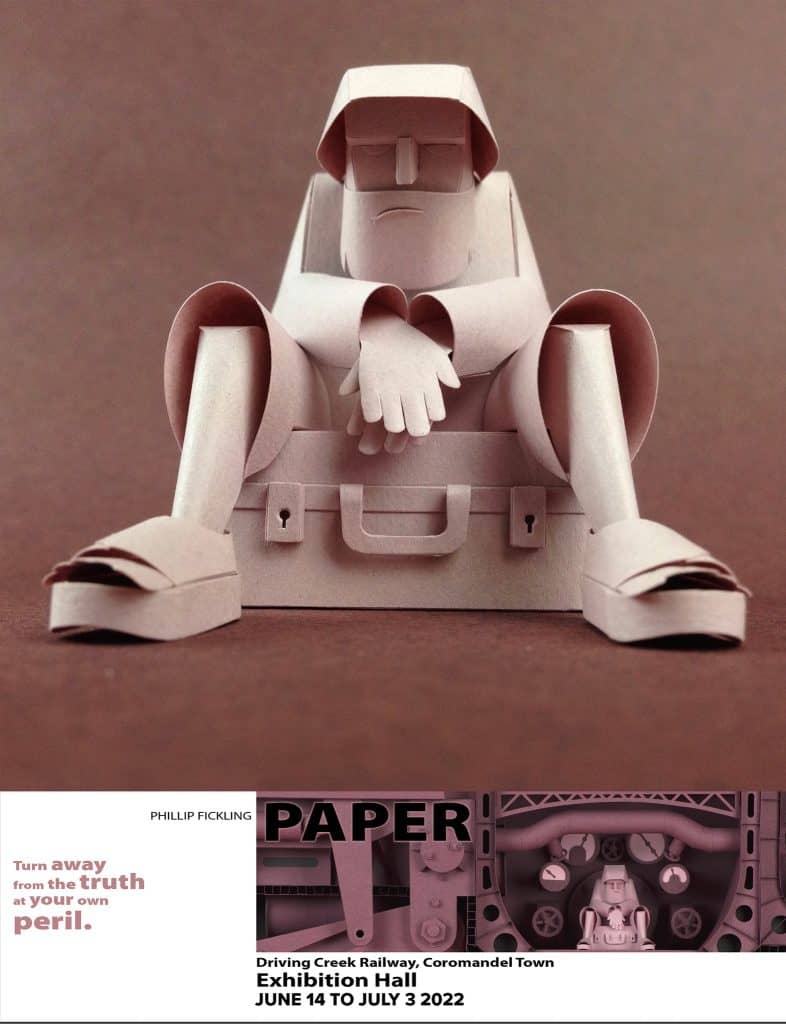 Have you done any Kiwi-focused books?
I did a collaboration with an illustrator in Australia on a Kiwi book called Wonky Donkey's House. They wanted to make a playset to get more mileage out of the character. Katz Cowley, based in Melbourne did the illustration, which was fantastic. It was the type of book that unfolds, and you bring the covers all the way around. It was a house, with four rooms or so: a little front yard, living room, a bathroom, and a kitchen. It came with extra sheets that held punch out parts to build little bits of furniture. I included a kitchen table and a record player, even socks to hang on the clothesline, a toilet that the donkey could drink out of. It had a cistern and everything.
How do you find collaborators?
I try to not be found *discreetly changes subject*. Here's another good story about a collaboration. I lived in Wellington, and I had a motorbike and I crashed it. I was in the hospital for three months. I almost died. I was in bad shape. When I got out, I had to go through quite a bit of rehabilitation. I lived in a big apartment building and down the hall from us lived Joy Cowley. She is quite famous for her children's books, an a very generous lady. Anyway, we were friends. She invited us for dinner one night, and we were talking, and she says, "Well, would you like to collaborate on a book? I'll write it and you do the pictures for it?" I said, "Oh, sure, that'd be fun". I thought she was just making conversation. Two weeks later, the manuscript is slipped underneath the door for a book called Robby & Hoot. It was about an old robot that was missing a toe, and an old car that was ready for the junkyard. You'll have to find the book to see how it ends.
It seems like Stars Wars is a big influence in your work.
When it came out, I was in the Navy, stationed north of Malibu. I went into LA, and I saw Star Wars at Grauman's Chinese Theatre. There was a line around the block of people trying to get in. A three hour wait to get into the movie. It changed my life. It was just fabulous. It seems silly now, but back then it was like nothing else. I saw it over and over and over again, it was just so great.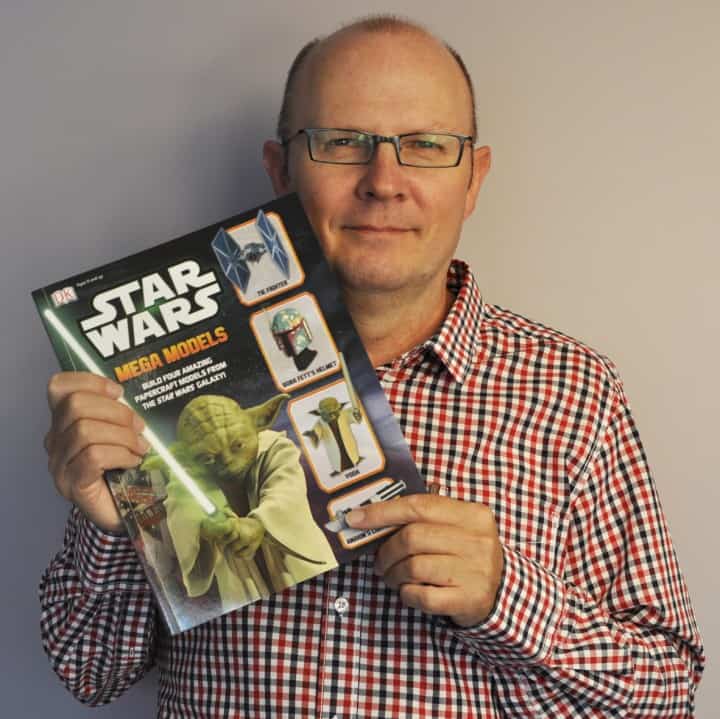 I've got a friend who named his daughter Leia…
I had a friend in high school that named her son Luke. Now he's a Green Beret in the Army. Kind of like a Jedi Knight, I suppose. Or a Storm Trooper.
How did you end up in New Zealand?
I was in the Navy, circa 1978. I was stationed in California, which was the home base for Operation Deep Freeze, which is a Navy unit that used to go down to Antarctica to support the scientist. I went down there twice, during the summers. On the way to the "Ice" you'd stop in Christchurch for your cold weather gear and a bit of training. I spent about a week there before heading down to McMurdo Station. I met my future wife in a bar. We seemed to hit it off, even though I spilt my beer down her front.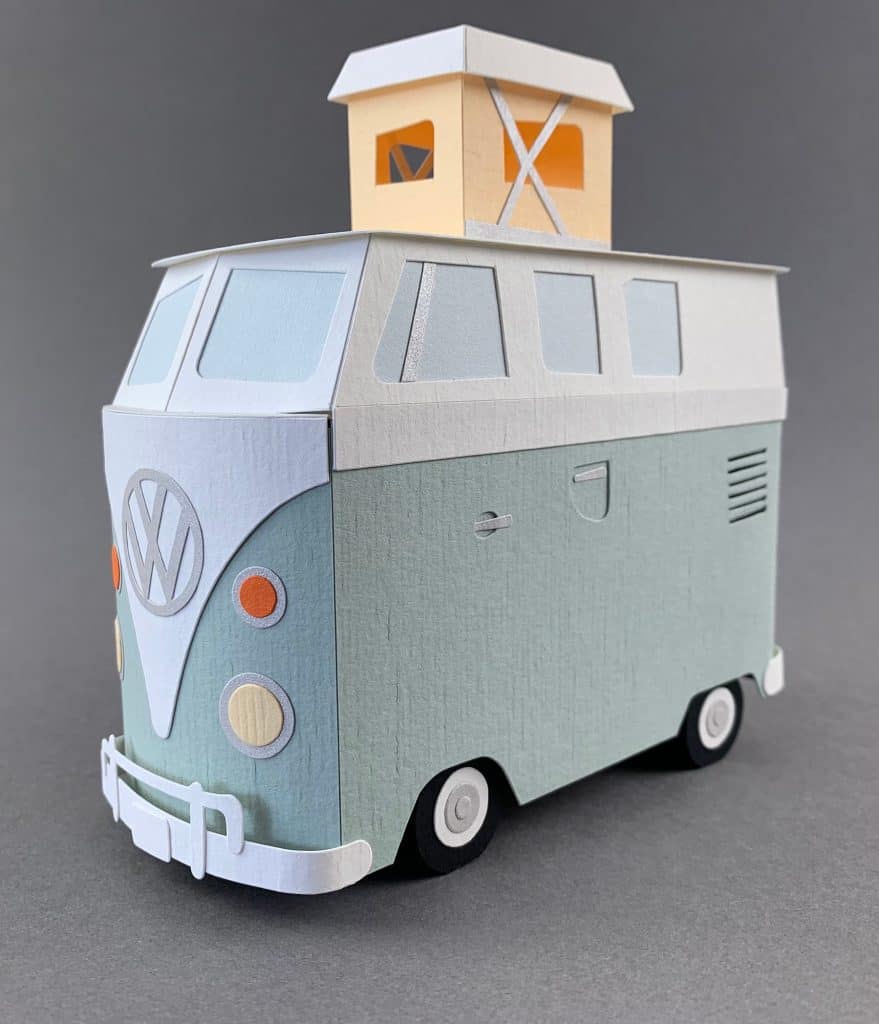 A bar in Antarctica?
Oh no, this was in Christchurch at the Star and Garter pub. It's since been torn down. They didn't have many women in Antarctica.
How did you get involved with Lens Pens Paper?
I don't know. Ian Preece made it all happen. Roimata and I just went along for the ride!
What have you modelled for the exhibition?
We're living in Whitianga at the moment but are planning to move soon, so most of our stuff is in storage, including a lot of my work. I had a few pieces that I've kept with me I wanted to show and some really old wood models as well.The most recent piece is a paper sculpture: It's called Jonah and the Whale. It's a cut-away whale you can look inside of. There's all these different little compartments and lots of mechanical stuff. Jonah is there and he's slumped over, looking depressed. He's been swallowed by the whale. The whale itself is one metre long; the frame it's in is about two metres long. It took a year off and on to complete. Hundreds of hours of work.
How's the response to Lens Pens Paper?
Overall, the show has been a great success with over 500 visitors. The gallery is a first-rate venue and the people that run it are really supportive.
Are there themes in your work?
Machines. Most of my work is mechanical looking. I also like a bit of humour. And whales–I do like whales.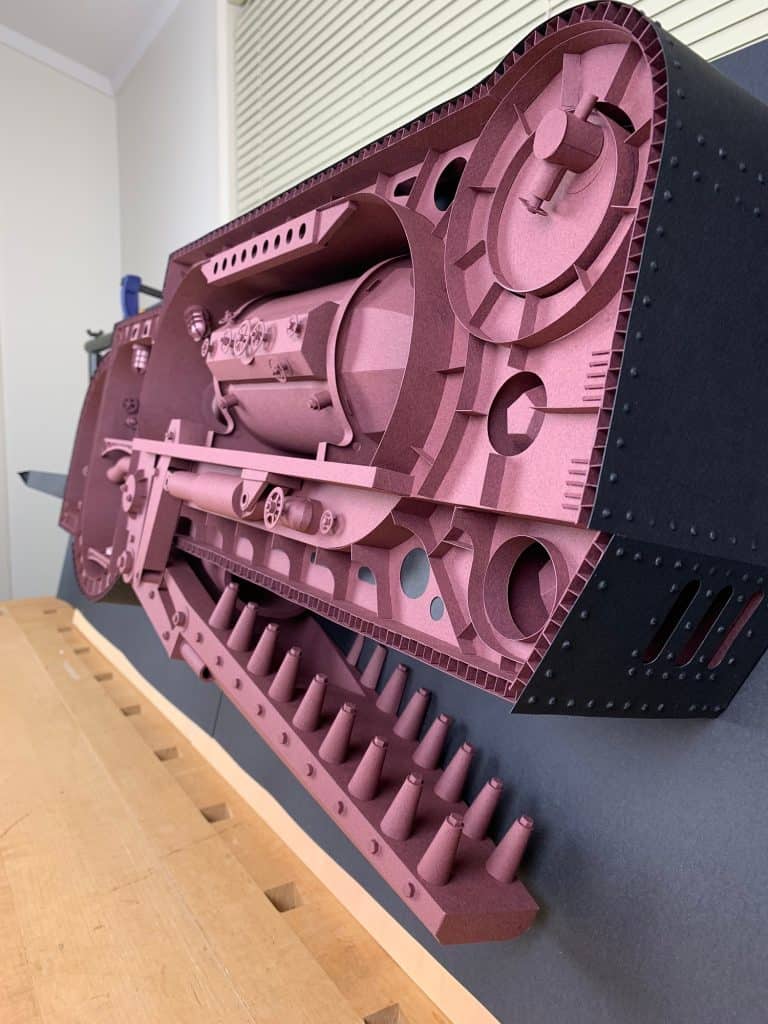 The Navy connection…
I was on an aircraft carrier for a while, but I also like submarines, especially the early ones.
My dad was a dentist in the Navy and had a posting to Faslane (the Scottish home of nuclear submarines armed with Trident missiles). My mom had wild dreams about that place.
I'm familiar with Navy dentists. When I was in the Navy, I walked into the trailing edge of a jet wing. A fighter jet–the wings are thin, like a knife blade. It knocked my front teeth out – completely out. They were lying on my tongue. The Chief said, go to the dentist. No empathy whatsoever. So, I go, and I sit in the waiting room. The receptionist is there and she's like: he'll see you when he can. Yawn. Half an hour later I go in and my teeth are in my hand, blood is still pouring out of my mouth. The dentist was pretty good. He fixed me up.
Did you continue modelling when you were in the Navy?
No, but being artistic got me out of a lot of not-so-good jobs. I designed logos for different things. In Antarctica, I designed a patch to go on everyone's fur coat. It was embroidered with a little picture of a Snow Cat vehicle; merged with the Starship Enterprise and the slogan, Antarctica: The Final Frontier.
What other projects have you got coming up?
At the moment, I'm working on a Caterpillar bulldozer. It's for a company in Sydney. They get worn out machines from the mines over there and re-manufacture them so they're like new again. It's the first one I've done. A dump truck is next, then a wheel loader. The bulldozer has taken months. Lots of little details.
It sounds like you've engineered a career out of your passions.
It's a pretty good job, yeah!