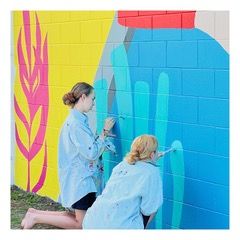 Birdy Design
103 Leighton Road, Whangamatā 3620, Waikato, New Zealand
Merel van den Nieuwenhuizen is a Dutchie living in Whangamatā and the owner of Birdy Design. 
She specialises in botanical, nature, wildlife murals - custom made to fit your wishes. The designs she create are made on a range of different products, from paper to concrete and anything in between.
Even though we live in a time where we can't live without our phones, computers and digital programs, a lot of people still love the authentic feel of hand drawn illustrations. And what better way is there to make a statement on your wall in the office or home? The murals Birdy makes are unique, one of a kind and custom made for the space.
If you are looking for a specific design for a logo, illustration or to give your item a personal touch, contact Birdy.
Private or group workshops are also available for booking.
Type:

Visual Arts

Keywords:
Testimonials
I had a great inspirational afternoon at the Jungle Sketching workshop. It's been years since I've sat down and actually drawn something, so this was a great introduction for me to put pen to paper and realise I could still do it! Such a lovely environment created by Merel, and a lovely group of ladies. Would highly recommend!
Jungle Sketching Workshop
/ Jo Cullen
103 Leighton Road, Whangamatā 3620, Waikato, New Zealand